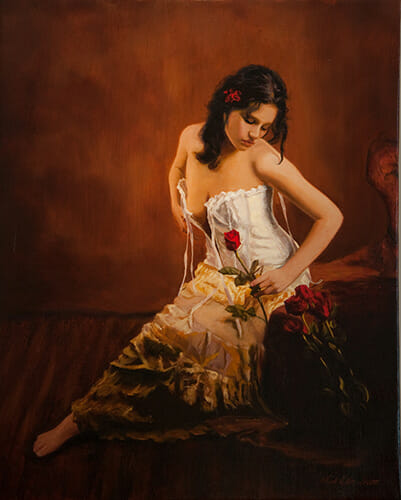 I just finished this finished this oil painting and shipped it out to Rehs Gallery in New York. I understand it will be displayed at Rehs booth at the Los Angeles Art Show Jan 18-22, and at the Palm Beach Jewelery, Art and Antique show February 17-21, 2012.  Right now I'm looking at the image of the painting on my laptop, as I blog, and the foreground and background appear "fire" red. The painting is warm but not that warm. In person, the foreground and background are softer, cooler browns. I am not sure how your monitor is reading the hues. Below is a less saturated version which looks closer to the real painting to my eyes right now.
Several different image captures of the painting have been posted to find one that looks most accurate to the real painting on my laptop monitor.
What I really like about this painting are the lines and curves, the warmth, and the feel.  Below is a close up, tight crop, of some of my favorite areas of the painting. Actually, I think the painting would have worked very well cropped like below too (even with part of the head and elbow cut off).   The curves and lines can really be seen well in this crop. I put alot of effort into capturing them and I am pleased with the result. My model did a great job too!  I thought I may have some difficulty with painting the hand convincingly but it came together very well.  I also put alot of effort into the positioning of the hands in my work. They can be graceful objects of beauty or clumsy, awkward shapes. I really love the hand holding the rose.  It is hard to see all the colors in the photo. The blouse actually has beautiful shades of grays of green and violet moving to soft yellow and white.
If you are interested in purchasing this painting, or seeing more of my work,  contact Rehs Gallery