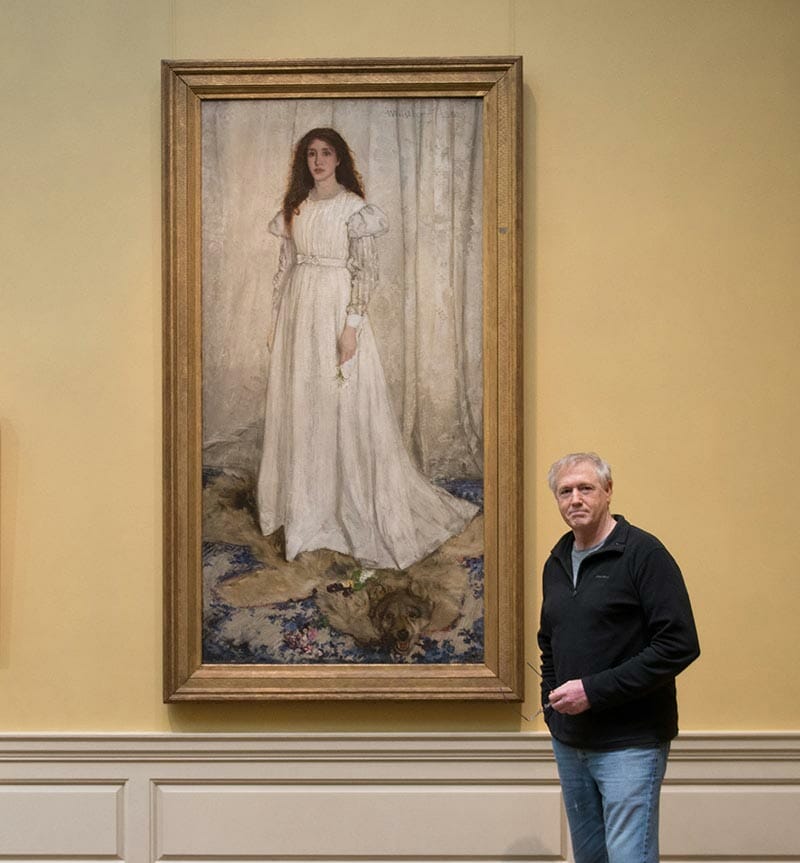 Whistler  'Symphony in White' Painting Commission
I've been commissioned to paint 'Symphony in White, No. 1: The White Girl'  by James Whistler. I will begin with some interesting facts about James Whistler and his painting, then go into detail about my experience recreating the painting. This website is created by Small Business Website Design | Lovett Web Design.
The Painting
Symphony in White, No. 1, also known as The White Girl, is a painting by James Abbott McNeill Whistler. The work shows a woman in full figure standing on a white polar bear skin in front of a white curtain with a white lily in her hand. The model is Joanna Hiffernan, the painter's mistress. Whistler created the painting in the winter of 1861–62, at the age of 28, though he later made alterations to it. It was rejected both at the Royal Academy and at the Salon in Paris, but eventually accepted at the Salon des Refusés in 1863.
The White Girl shows the influence of the Pre-Raphaelites, with whom Whistler had recently come in contact. This group objected to the influence of classical poses used by painters such as Sir Joshua Reynolds, founder of the English Royal Academy of Arts.
Rising at 8:00 each morning to paint, Whistler worked furiously on The White Girl during the winter of 1861–1862 in his Paris studio.  Whistler painted the canvas specifically for submission to the 1862 Royal Academy of Arts exhibition in London, an annual event juried by a group of artist-academicians whose choices could make or doom an artist's career.
For the 27-year-old Whistler, who was still establishing his reputation, The White Girl was intended to demonstrate his talents to the world. He was cruelly disappointed when he visited the Academy galleries a week before the salon opened to the public, searching room after room of paintings for his work, only to find it leaning against a wall with the rejects. He consoled himself with the thought that "she was still beautiful."
The picture was shown about a month later at Morgan's, a commercial gallery in London, with the "rejected" designation. There it attained some notoriety, savaged in the press as "bizarre" and "incomplete."  The painting continued on this path: rejected by the 1863 Paris Salon, it eventually ended up in the Salon des Refusés, a protest exhibition organized by Gustave Courbet of paintings spurned by the French Salon jurists.  Shown alongside the similarly scandalous with Déjeuner sur L'Herbe by Édouard Manet, The White Girl became known as one of the exhibition's most infamous pictures.
Flouting the conventions and standards of portraiture set by Royal Academy of Arts, The White Girl made 19th-century viewers distinctly uncomfortable. The woman pictured wears an informal lightweight cotton or linen summer housedress of a type worn in private. Her red hair is loose, contrasting vividly with the tonal white interior setting and dress. Gazing impassively, her expression is vacant and unfocused — she does not charm us, yet demands our attention. She stands on a bearskin rug whose fierce appearance contrasts with her own blank look, and lilies drop languidly from her hands to the floor. To viewers of the period, these attributes made Hiffernan's worldliness and lack of innocence shocking.
Whistler later appended the title with "Symphony in White: No. 1" (there were eventually three paintings in the series) to focus attention on what he viewed as the painting's true subject: his handling of the thick white paint, its textures, and subtle tonal contrasts. The painting's radical break with traditions of portraiture make it a bellwether of modern art.
Elizabeth Pennell's book "The Life of James McNeill Whistler", states "Whistler fell ill in the winter following the completion of White Girl. Miss Chapman states that he was poisoned by the white lead used in the picture."
The Artist
James Abbott McNeill Whistler (July 10, 1834 – July 17, 1903) was an American-born, British-based artist who was averse to sentimentality and moral allusion in painting. Whistler was born in Massachusetts and died in London at the age of 69. His most famous painting is "Arrangement in Grey and Black No. 1" (1871), commonly known as Whistler's Mother.
James Abbott McNeill Whistler was the oldest son of engineer George Washington Whistler and his devoutly Episcopalian second wife Anna McNeill. As a child Whistler was temperamental and prone to mood swings. His parents quickly discovered that drawing soothed him and so they encouraged his artistic inclinations.
In 1842, James moved with his family to St. Petersburg, Russia where his father was recruited to design a railroad. There, the precocious youth insisted on showing his drawings to Sir William Allan, a Scottish painter hired by the Tsar to create a portrait of Peter the Great. Allan encouraged the youth to cultivate his talents and in 1845, at age 11, Whistler was enrolled in the Imperial Academy of Fine Arts.
Whistler's first formal art instruction, ended four years later when his father died from cholera and the family returned to the United States, settling in Pomfret, Connecticut. Whistler later enrolled in the United States Military Academy at West Point in 1852, where he studied drawing, but his aversion to authority and poor academic performance led to his expulsion shortly thereafter.
Map-making, a skill developed at West Point, helped Whistler acquire his first job upon leaving school as a topographical draftsman for the U.S. Coast and Geodetic Survey. During his brief two-month tenure, the artist learned about the etching process, a skill that he would later use to create 490 etchings, drypoints, and mezzotints. Intent on pursuing art as a profession, Whistler left for Europe in 1855. He would never return to the United States.
Paris provided a solid training ground for Whistler. After briefly attending a few ateliers, the 21-year-old quickly fell into the manner of a bohemian artist. Strolling along Parisian boulevards, "Jimmy," as he was known to friends, spent his funds lavishly on clothes, tobacco, food, drink, and art supplies.
Often reduced to pawning possessions or relying on generosity of friends to cover his mounting debt, Whistler copied seventeenth-century Dutch and Spanish masters on view in the Louvre and selling them to tourists help alleviate his financial burden.
In 1859, Whistler painted the traditional realist work 'At The Piano' which was well received at the Royal Academy in 1860. Shortly after, Whistler began straying from traditional realism with his 'White Girl' painted in 1861-1862.  Within only a few years, Whistler abandoned the Realist perspective altogether in favor of a whimsical style more closely aligned with Aestheticism in terms of its decorative quality.  His incorporation of oriental props and adherence to Japanese aesthetic principles further separated him from the Realists, while catapulting him to new heights within the Aesthetic movement.
Whistler became aware of Impressionism thanks to fellow artists Claude Monet and Camille Pissaro, who in 1870 had temporarily relocated to London to avoid the Franco-Prussian War. During these years, Whistler created his nocturnes by applying thin layers of paint peppered with flecks of bright color to suggest distant lights or ships.
In his later years, Whistler was known to have a dominant personality and liked to argue with art critics. He developed his own theory of art as described in 1873 as "the science of color and 'picture pattern'." Upset by what he viewed as an attack on Nocturne in Black and Gold: The Falling Rocket (1874) in the form of a poor review by John Ruskin, Whistler sued the art critic for libel. Although the artist won, the judge's award of a single farthing, the equivalent of mere pennies, made a strong statement about the value the court placed on the case. Whistler's need to pay his expensive court costs forced him into financial ruin.
In 1879 a bankrupt Whistler was forced out of his London home. By the 1890s, Whistler had created his own unique signature: a butterfly formed from his initials with a stinger for a tail – an allusion, perhaps, to his delicate touch and sharp tongue.
The influence of Whistler's work is most apparent in the paintings of his American contemporaries and later generations of modern artists. John Singer Sargent admired and at times imitated Whistler's approach to color and even the arrangement of forms within his pictures.
The artist's Nocturnes is said to have marked the beginning of art's movement toward abstraction, which would culminate in the gestural action paintings of Abstract Expressionists Jackson Pollock and Mark Rothko. By envisioning and titling his works in abstract musical terms, Whistler helped spearhead a new modern approach to painting in which the medium itself is the subject, not the sitter or landscape pictured.
The Artist's Model
Joanna "Jo" Hiffernan (ca. 1843 – after 1903) was an Irish artists' model and muse who was romantically linked with American painter James Abbott McNeill Whistler and French painter Gustave Courbet.
Whistler met Hiffernan in 1860, and she went on to have a 6-year relationship with him, during which period she modeled for some of his most famous paintings.  Physically striking, Hiffernan's personality was even more so. Whistler's biographers and friends, the Pennells, wrote of her,
"She was not only beautiful. She was intelligent, she was sympathetic. She gave Whistler the constant companionship he could not do without."
Whistler's family did not approve of Hiffernan because unmarried artists' models, and especially those who posed nude, were considered at that time to be little better than prostitutes.   When Whistler's mother visited from America in 1864, alternative accommodation had to be found for Hiffernan.
Hiffernan was in France with Whistler during the summer of 1861, and while in Paris during the winter of 1861–62 she sat for Symphony in White, No. I: The White Girl at a studio in Boulevard des Batignolles.  In 1864–65 she posed for Symphony in White, No. 2: The Little White Girl.  It is possible that this is when she met Whistler's friend and fellow artist, Gustave Courbet, for whom she later modeled.
There is some thought – recently confirmed by experts who found another part of the picture showing the woman's head – that she was the model for Courbet's L'Origine du monde, which depicts a nude woman's vulva.
Hiffernan attended séances with Whistler at Dante Gabriel Rossetti's house in Chelsea in 1863, and spent the summer and autumn of 1865 in Trouville with Whistler.  In 1866, Whistler gave Hiffernan power of attorney over his affairs while he was in Valparaiso for seven months, making provision for household expenses and giving her the authority to act as an agent in the sale of his works.
During Whistler's absence, Hiffernan travelled to Paris and posed for Courbet in The Sleepers, or Le Sommeil which depicts two naked women in bed asleep. It is likely that she had an affair with Courbet at this time. After the end of his relationship with Hiffernan, Whistler left a will in her favor.
The Painting Commission Challenge
The challenge is to successfully paint in oil on fine linen canvas, full size 42 x 84″, James McNeill Whistler's 'Symphony in White, No. 1: The White Girl',  which hangs at the National Gallery Museum in Washington DC.
This is a huge project and an enormous challenge , and I am very much looking forward to writing about the experience.
Step One – Great Resource Photos
Acquiring professional resource photos of the original painting at the Nat'l Gallery is no easy task. Although they allow photography, the enormous height of the painting requires the lens to be considerably higher than my normal eye height.  We schlepped a pro camera/lens and a 40″ portable step stool to the National Gallery, however the step stool was quickly rejected by front door museum security. Not one to give up easily, I pleaded my case with no success.
After an hour of discussion with various museum security personnel and supervisors, I arrived upon a lieutenant who agreed to come look at my step stool before making his final decision. After another 20 minute wait, he arrived, took one look at it and says "Oh, heck no. There's no way my supervisor would allow that for liability reasons."  Still in disbelief, I said to the lieutenant, "Are you sure your supervisor would not allow me, under your direct supervision of course, to stand on the step stool, take a few pictures, finish within five minutes, and leave?"
"Tell you what I'm going to do" said the lieutenant, "Im going to have you talk directly to my supervisor so you can hear her tell you NO yourself".  I agreed. When the lieutenant handed me the phone, the strangest words came out of my mouth. I said "Do you discriminate against little people?" "Of course not!" said the supervisor. I then asked "Would you mind if I, under the lieutenants supervision, quickly took a few pictures of a painting on my small step stool?"  She said "That would be fine!" The lieutenants jaw dropped to the floor. As we began walking to the gallery the lieutenant said, "You told her you are a little person. She asked me if you are little, and I told her you were not little". I replied, "No I did not tell her I was a little person".
Mission accomplished!
Step Two – Build a Gigantic Support and Canvas
After much research, measurement and calculation, I located the same size, heavy duty, stretcher bars that were used in the original painting. I already had the perfect fine linen in my studio, so I began building the support, adding extra bracing, squaring it up, and cutting the canvas.
As I was standing on a box in my studio, and reaching for the top of the canvas, like a spastic, I took a little tumble to the cement floor and twisted my ankle.  Now Im hobbling around at half speed!
In my younger days I was like a monkey on a small ladder and I forgot that, at my age, pushing 60,  I need to be more careful than when I was 23.
After wrestling with the support and canvas for several hours, I finally got the enormous canvas stretched, tight as a drum! As I looked over at my cheap little easel with maximum canvas size of 82″, I thought it would make an interesting picture to put my new 84″ canvas on that little easel, so that's what I did. Here you can see the stretched 42×84″ linen canvas overwhelming my little 82″ max canvas size easel!
To me, this image of the little easel swamped by the 7′ blank canvas, in a studio with a low 8′ ceiling, signifies the magnitude of this project and the challenges that lie ahead!
I'm Back
You'll notice, below, I have a new, large easel!  Really needed an easel that could handle this huge canvas. After much research I purchased the Best Classic Sante Fe 2  Easel, and I really love it!  The double mast gives extra support for large canvases, the hand crank moves it up and down, and the front shelf (with brush holders) comes in real handy. An extra bonus – when folded up, it doesnt take much space.
You'll also notice that the canvas is horizontal rather than vertical!  I've got a low ceiling, so horizontal works better. There is quite a bit of detailing happening at the bottom of the painting which would be positioned too low if it was placed vertically in the easel.
There has been many, many painting sessions after the picture above to get to this point, displayed in the following three images.
Below is a little bit closer look.
Below is the above image rotated vertically so you dont have to break your neck to see it!  I'm not finished yet.
Keep in mind that the light on the painting is cool fluorescent so it looks a bit cool, however, it will warm up nicely in warmer light.
Stay tuned!
After several more long painting sessions, it was time to step back, zoom out, and compare my work with the original, to make sure everything is laid out correctly and getting close to finish.
I took a photograph of my painting this morning, and compared it side-by-side with a photograph of the original Whistler painting hanging in the National Gallery.
In the image below, the original 84″ tall Whistler painting is on your left, and my 84″ painting is on the right. I can now see that it is laid out properly (sweet!), and I see where I have a few adjustments to be made, and a little more work on the face. I'm almost home now!
Although most images of the original online usually display the bear rug warmer like my painting, I decided to cool it down to more closely resemble the original.
After another painting session cooling down the bottom of the painting, I brought it upstairs, raised it high on the wall, as it is in the museum, and took some pictures of it below.
After taking the above photos with Cliff, Laurel and myself standing in front of the painting, I became inspired, and worked another session on it.  I'll take a good picture of the painting after it dries and post it. I've got Whistler's original looking signature at the top, now just need to add my signature on the bottom!
Below, on right,  is my painting as of 5-23-16 after a couple more sessions.
Original Whistler on left                                                                 Mark's painting on right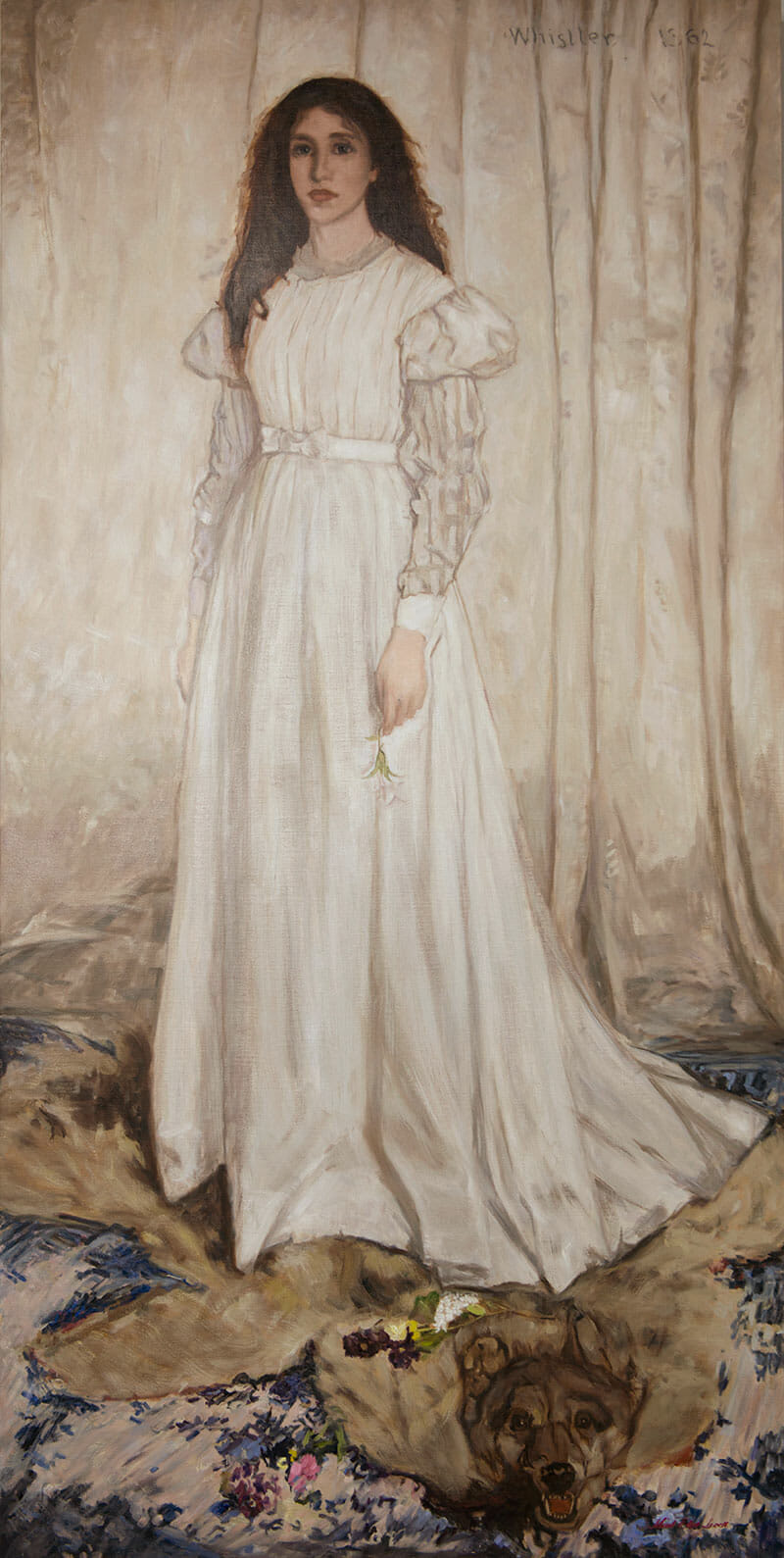 Finished, 42×84″, oil on canvas, above,  by Mark Lovett, recreation of Whistler's Symphony In White #1. Notice that I managed to recreate some of Whistlers finishing techniques and old vintage look by using dry brush and scumbling.  I used a big weave canvas as did Whistler which helps. For example, you can see certain areas of the dress where I dry brushed darks over lights.
Fast Forward A Few Months – The Payoff
Several months later, after finishing the painting, to save money on shipping, I carefully removed the canvas from the stretcher bars, and packed/shipped the canvas in a separate container. Upon arrival of the packages to my client's framer, I equipped him with many detailed photos of how the painting was disassembled to assist him in putting it back together again.
A few months later, my wife and I took a trip out to the west coast to visit our friend and collector, and to view the painting in it's final destination. We were both delighted to see the painting in all it's glory, in a gorgeous new frame, on the wall of a large beautiful room, with special lighting designed specifically to light the paintings.
We were very fortunate to, not only spend time with some wonderful people, but also view several of my paintings, including my Mona Lisa painting commission. You can see the Mona Lisa on the far left wall.
Ah ….. I am so honored and lovin every minute, just taking it in. Mission complete!
Mark Lovett's painting commission, 'Whistler's Symphony In White', finally finished, same size as original in Nat'l Gallery DC, and displayed on client's wall.
Lit by interior lighting. Can see the Mona Lisa commission on the far left wall.