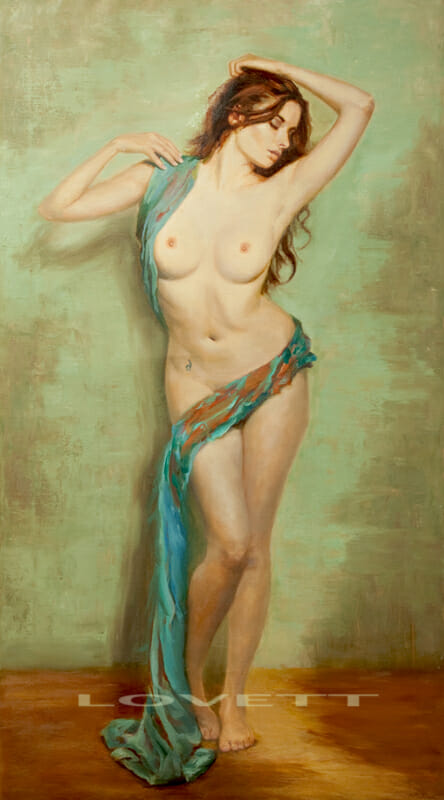 Bethesda, Maryland based artist Mark Lovett, of Mark Lovett Studio, is busy at work once again creating some amazing figurative oil paintings. Enjoy the blog about one of Mark's latest works.
This is my latest painting. I hope you enjoy it. I really enjoyed working on it very much and I am very happy with the result. I stretched a 20×36″ canvas with some of the finest canvas available. It is a very fine weave and it has been oil primed 4 times.
I was inspired by some Bouguereau paintings created in the late 1800's.  Painting the nude figure is a huge challenge and choosing how the figure is to be painted in the scene is also very challenging.  I had a vision, and a good model, and we worked at it. I wanted to show the figure at it's best with a lot of curves and lines, with much movement. My goal was also to paint the figure very realisticaly, and paint the rest of the painting in an impressionistic manner.
My  Maryland figure model was standing in front of a white wall (boring) so I took some liberties.  I kit the model with one strobe, profoto 600R monolight with a Profoto Beauty dish with grid and sock. The light was 45 degress to the right and high pointed down. There was a lot of fall off from the light and her legs were actually in much more shadow then her top, however I decided to minimize the shadow on the legs in my painting.  I also thought about eliminating the shadow on the wall, but I realized that the shadowcast by her body added dimension and helped create the illusion of three dimensional object on the canvas.
In setting the model up, she was first trying the pose completely nude. I then grabbed a piece of fabric and started trying to find a way to drape it on her in a way that accentuated her figure. I quickly noticed that the use of the fabric would make a much more interesting painting, however, initially the fabric was straight across her waist running horizontally to the floor. The lines weren't great like this. I then tried angling the fabric on her hip and this was a major improvement however the fabric would not stay like this. It kept falling down. So I then grabbed some tape and proceeded to tape it in place. After many trials, we eventually got something that worked well.
It is very challenging painting skin (the figure) in a manner that creates an illusion of a three dimensional object, yet that is beautiful in paint. Another words, when you look at the master Bouguereau's works, on his most successful nudes, he minimized the shadows on the skin. I find the female form much more beautiful in a painting when the shadows are minimized and very soft but still convey form. It's is very difficult to accomplish.
This painting may end up for sale at Rehs Gallery in New York, or I my keep it because I have done very few nudes, and it would be nice to keep this for display. We'll see. Maybe I'll send it to the Art Renewal Center (ARC) .      I was hoping that they would move me from the Mark Lovett  ARC Living Artist category (which I have been for several years now) and bump me into the ARC Living Master category with some of my new work paving the way.
Make sure you check out my oil painting site at Mark Lovett Studio often. Also please check with the awesome Rehs Gallery in NY,NY to see several of my latest works for sale. Now is a good time to purchase an original  Mark Lovett oil painting before the prices skyrocket out of site when I get discovered 🙂   Howard Rehs is a great guy and has an incredible knowledge and reputation in the art world. He was resident of the Fine Art Dealers Association for many years.  I am very honored to be represented by him. Howard takes my paintings to several major shows throughout the country and displays my paintings for sale along side of some major paintings that often sell for several hundred thousand dollars each. It is such an honor to have my work in such company. If you ever need an art expert to authenticate a painting or for any consultation, you really should speak to Howard Rehs in NY because he is one of the world's foremost experts.
Here are a few of the awesome recent shows that Howard Rehs is displaying my paintings for sale:
Palm Beach Jewelry, Art, and Antique Show – February 17, 2012 – February 21, 2012
Palm Beach County Convention Center – 650 Okeechobee Boulevard West Palm Beach, FL 33401 Palm Beach Jewelry, Art, and Antique Show will be showing the work of ARC Living Artist™ Mark Lovett, at the Rehs Gallery booth.
American International Fine Art Fair – February 4, 2012 – February 12, 2012
Palm Beach County Convention Center – 650 Okeechobee Boulevard West Palm Beach, FL 33401 The American International Fine Art Fair will be showing the work of ARC Living Artist™ Mark Lovett, represented by the Rehs Gallery.
Don't forget that I also am available for hire to create oil paintings of your children or family, as well as for photography services. I am a professional photographer and I enjoy the creativity in photo work almost as much as painting. Check out my work at Mark Lovett Photography for weddings, family portraits and events.  Oh yes, and check out my Photography Blog for some interesting stories and photos at PhotographyBethesda.com. I am really into creating  business headshots and corporate portraits as well, and you can visit my sites for more info at BethesdaHeadshots.com and RealtorHeadshots.com.  These are some new sites that I am just starting to build out.
I am the official photographer for the Miss Maryland USA Pageant and Miss Maryland Teen USA Pageants and do many model headshots too. It is a challenge that I enjoy. I love helping people look their past in images. My oil painting studio doubles as my Photography Studio, and I do uite a bit of shoots on location too.
If you get a chance visit my oil painting Facebook site here. But if you are into photography, come visit my photography Facebook site here.
If you would like to contact me about purchasing an original oil painting, commissioning me to create an oil painting for you, or hiring me for photography service please feel free to
call 301-873-4701 or email: [email protected]
Thanks for visiting!